What kind of canopy
suits you best?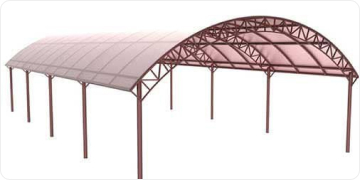 Dome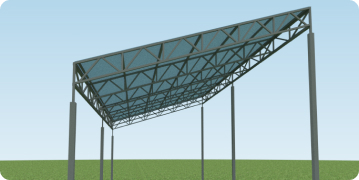 Shed roof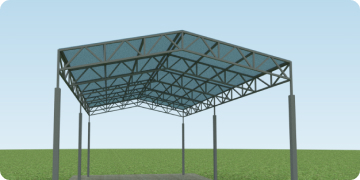 Gable roof
The basis of these steel warehouse buildings is a pile foundation, on which a frame made of shaped pipes of various diameters is erected. The small architectural structure is completed by a roof of galvanized steel sheet or monolithic plastic (not polycarbonate). Depending on the size of the construction and its functional purpose, our specialists select the most appropriate profile and reliable coating. In order to avoid metal corrosion over the years of operation, we cover all load-bearing elements with an anti-corrosion compound.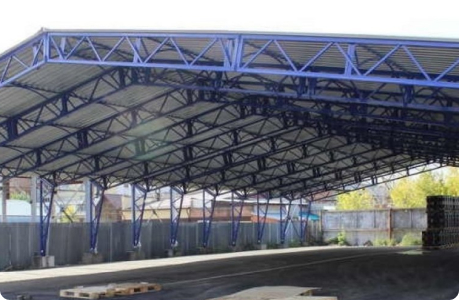 Oscar Metal

builds canopies with the following characteristics:
Ease of maintenance
Our canopies do not need additional care or regular checkups by specialists. Our principle is simple: once set, you are free to use it without any bother.
Constructions for decades
The entire manufacturing and installation process is designed for long-term operation of the product: a solid foundation, reliable fastenings, and anti-corrosion protection are there to serve the purpose.
Nice price
We produce everything ourselves, so we offer prices without extra charges and commissions. Our products are available for both small and medium business customers, as well as for private consumers.
Resistant to all weather conditions
Our canopies withstand storms and hurricanes. Snow caps are no hazard for you at all if the structure is made of steel sheet.
Wide choice of standard constructions
Each canopy has its own characteristics and nuances: sometimes it is difficult to put up a foundation because of underground utilities, sometimes it is required to combine a shed roof with an arched one. We solve all issues with the customer right on the spot to find the best solution.
How to choose the
type of construction you need?
The most correct algorithm of action will be to invite our specialist to the future construction site. He will then be able to take measurements on site, examine the soil, and analyze all aspects of the site operation. Only then you will receive full information and consultation, including our recommendations.

Warehouse building cost calculation
Contacts
+1

(727)

76-86-223
Kyiv. Sales office. Okruzhnaya Road 4, Office 8
Odessa. Sales office. Breusa Street 61/9