A straight wall building has
the following advantages:
May have up to three floors with windows, doorways and entry gates.
The rectangular design allows you to build a structure of unlimited length, height and width.
The possibility of arranging warm straight wall warehouses with high resistance to weather factors.
When building an uninsulated warehouse, you can later make it warm using various materials.
Versatile use of premises: from deployment of offices and pavilions to the operation of freight transport.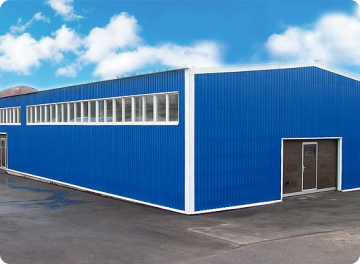 Quality assurance from the manufacturer:
5 years
Service life
over 30 years!
Suitable types
of insulation

suits you best
Factory sandwich panels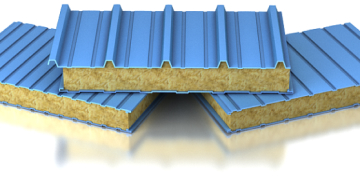 These are high-tech steel warehouse buildings with mineral wool insulation, which is held on both sides by steel sheets. For reliable adhesion, the sheathing and the filler are bound with a polyurethane composite.
Self-casting sandwich panels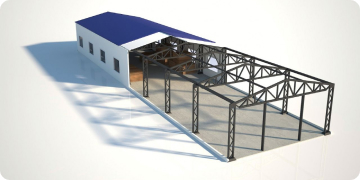 The frame of these metal warehouse building is sheathed with two layers of profiled sheet, between which a layer of mineral wool is laid. This design allows you to save up to $7/m2 on insulation compared to the factory sandwich panel.
Polyurethane foam spraying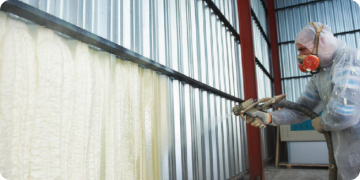 Application of polyurethane foam has excellent performance properties: reliable adhesion, mechanical strength, high heat and vapor retention. This method of insulation is the most economical.
Support inner wall
for grain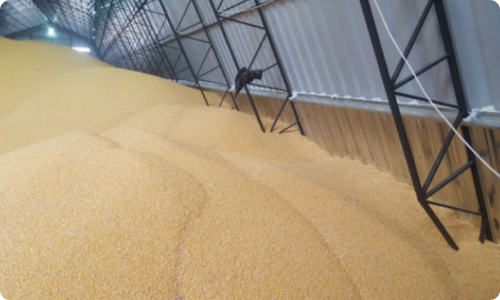 Specially for granaries, we build an inner wall to support grain.
This steel warehouse building is sheathed with an additional profiled sheet with a high wave, which gives it extra strength. A 10 cm air cushion is created between the outer and inner profiled sheets, which protects grain from condensation and freezing in winter.
Light strips

from PVC

The issue of natural lighting is solved by installing PVC light strips in the structure of the straight wall warehouse. They can be built into both roof and walls, providing the space with a constant source of daylight.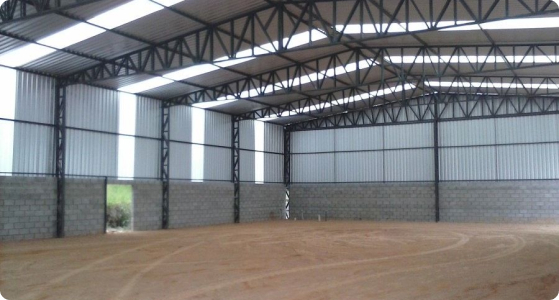 Warehouse building cost calculation
Contacts
+1

(727)

76-86-223
Kyiv. Sales office. Okruzhnaya Road 4, Office 8
Odessa. Sales office. Breusa Street 61/9